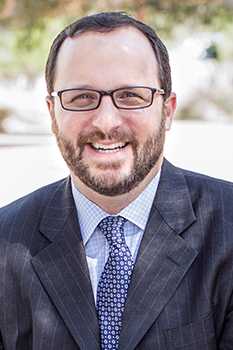 A native Texan, Rabbi Jeremy Schneider grew up in Houston at Congregation Beth Israel, attended the University of Texas in Austin earning a Bachelor of Science in Applied Learning and Development, and attended rabbinical school at the Hebrew Union College-Jewish Institute of Religion where he received a Master of Arts in Hebrew Letters and a Master of Arts in Jewish Education. Rabbi Schneider wrote his rabbinical thesis with Rabbi Reuven Firestone, Ph.D. on Jewish-Christian Relations: From Tolerance to Pluralism to Partnership. Rabbi Schneider comes to Scottsdale from Dallas, Texas where he was the Associate rabbi at Temple Shalom for five years.
Rabbi Schneider has earned certificates in Synagogue Management and pre-marital & marital counseling. He completed Clinical Pastoral Education with Kaiser Permanente in Los Angeles and St. Luke's Episcopal Hospital in Houston, Texas where he honed pastoral skills and a special rapport with children. Rabbi Schneider is a charismatic teacher and is actively involved in early childhood education, religious school and adult education, and is an enthusiastic supporter of NFTY, Jewish teen programs and camps. He grew up as a camper and a counselor at the URJ Greene Family Camp and URJ Jacobs Camp, including leading trips to Israel.
In the spring of 2014, Rabbi Schneider completed a year-long Interfaith Fellowship Seminar with the Monsignor Ryle Fund designed to inform Arizona faith leaders to be advocates for sound public policy and social justice in our community.  In 2012, Rabbi Schneider was selected to be a Brickner Fellow by the Religious Action Center in Washington D.C.  to be a more effective social justice advocate. In 2009, Rabbi Schneider was selected to participate in the executive leadership program Synagogues: Transformation and Renewal: Professional Education for Excellence in the Rabbinate.  His writings have been published by the Phoenix Jewish News, Union for Reform Judaism and has an article published in the book Reflections and Experiences of Religion and Society.
In 2008, Rabbi Schneider was chosen as one of six Americans for an interfaith study tour in Egypt and Syria sponsored by the U.S. Department of State. In 2009, Rabbi Schneider was given the "Citizen Diplomat – Peace Quilt Award" from the National Peace Foundation in Washington, D.C. for his grassroots work in durable peace building. In 2010, Rabbi Schneider was a keynote speaker at the 47th Annual Islamic Society of North America Convention in Chicago. Rabbi Schneider is considered a national leader in Interfaith relations.
Currently, Rabbi Schneider serves as the Immediate Past President of the Greater Phoenix Board of Rabbis.
Rabbi Schneider is married to Rachel, a teacher at Pardes Jewish Day School in Phoenix, who holds a Master of Arts in Jewish Communal Service and a Master of Arts in Public Service. They are the proud parents of Ezra,  Micah, Naomi and Sarah.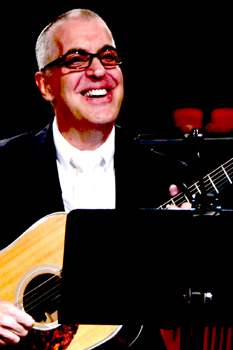 Gregg Luchs comes to Temple Kol Ami from California, where he served as Cantorial Soloist for the Reform Temple of Laguna Woods from 2006 to 2015. His previous cantorial affiliations include Congregation Havurim in Temecula, the Eretz Alliance in Reseda and Temple Adat Elohim in Thousand Oaks, where he began his cantorial work in 2000.
Gregg holds a B.A. from the University of Pennsylvania and a J.D. from Yeshiva University, Cardozo School of Law. After a successful fifteen year legal career, he set his sights on loftier goals and decided to embark on a career in the cantorate. A native of New York City and a lifelong Yankees fan, Gregg has always been deeply influenced by and actively participated in a myriad of musical genres, from performing in musical productions to singing in bands, choirs and other vocal groups. He is a classically trained baritone, having studied with John Ostendorf and Erik Thorendahl in New York, Patricia Kaufman in Philadelphia and Diann Alexander in Los Angeles, and has an extensive background in acting and dance as well, including performing for two seasons with the College Light Opera Company while an undergraduate, and later appearing on Broadway with Rudolf Nureyev and the Boston Ballet in Don Quixote.
While living in Raleigh, North Carolina, Gregg had a transforming experience when he was first exposed to Hebrew liturgy set to acoustic guitar music; this sparked a desire to immerse himself in Jewish music, and since then, his life has never been the same. He cites as his greatest musical inspiration the immortal Debbie Friedman, who he was blessed to come to know and work with before her tragically untimely passing. Gregg is married to the love of his life, Sharon, and they have two adult children, Shannon and Ryan, about whom he will proudly and endlessly expound if given even the slightest opportunity.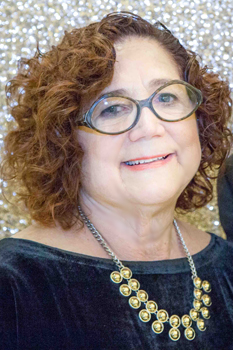 Nancy Drapin, Kol Ami's executive director, is a specialist in nonprofit management with more than 35 years experience in public education, arts and culture, and Jewish communal organizations.
After 10 years teaching art to students with learning disabilities in Cleveland and San Francisco, Nancy brought her creative and organizational abilities to the San Francisco Jewish Community Center, where her 18-year career included increasingly responsible jobs in adult programs, public relations marketing and development, eventually becoming executive director. In the mid 1990s, Nancy moved to Washington D.C., where she opened the District of Columbia JCC as associate director.
Returning to the Bay Area in the late 90s, Nancy headed up Community Impact, a nonprofit organization that developed community service projects for large corporations. But Jewish communal work called her back, and Nancy joined the staff at congregation Sherith Israel, a Reform congregation, serving as the Membership and Marketing director and as interim executive director. Lured back to the private sector in 1998, Nancy joined a software security company as their administrative director. In 2001, Nancy was asked to return to Congregation Sherith Israel, where she served as Executive Director for ten years. In 2011, Congregation Kol Shofar, a Conservative community, recruited Nancy to help build the congregation's programs and infrastructure for five years while a rabbinic search was conducted, and as community partnerships were rebuilt as congregation moved into a newly renovated facility.
Always community focused, Nancy has been an active volunteer in national organizations. She served on the boards of the Western Regional Association of Jewish Communal Professionals and the Bay Area Substance Abuse Institute. Nancy's other community involvements have included the Business and Professional Women's Association, the program development committee of the UJA Federation of Greater Washington, Congregation Emanu-El's community service board, the JFCS disabilities task force, and the community relations committee of the San Francisco YWCA. Nancy served as president of the Bay Area Temple Administrators association and also was actively involved with the Jewish Community Federation's capacity building task forces for membership development.
Nancy, her husband, Stewart Reichlyn and their dog Lucy (a wildly happy Woodle rescue) are looking forward to meeting new friends and enjoying unique adventures in Scottsdale.
Nancy's door is always open and she invites everyone into her office for a piece of chocolate and discussion.
Debbie Glassman has been the Director of Temple Kol Ami Early Childhood Center since June of 2006. She has taught many different age levels for almost 40 years including Religious School. In addition, Debbie has been a past Preschool Camp Director.
Debbie grew up in Wisconsin and Minnesota and moved to Arizona in 1983. She graduated from the University of Minnesota with a Bachelor of Science degree in 1974.
She is married to Steve Glassman who is also an educator. Debbie is a grandmother, and the mother of two children, Angela and Steven. One of her highest priorities is to foster a sense of community amongst the staff and families at our exceptional preschool.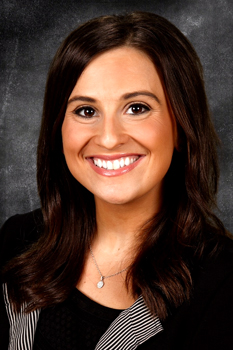 Alison, an Arizona Native, relocated back to the Valley in 2013 after spending eight years living and working in Chicago, IL. She received her Bachelor's degree in Psychology with a concentration in Human and Child Development from DePaul University. Alison has extensive experience working with young children of all ages. In Chicago, she was a lead teacher at the Florence Heller JCC for four years where she taught 2's and 3's. She also spent a year teaching Pre-Kindergarten at Camelback Desert School in Scottsdale. Additionally, Alison has completed numerous Early Childhood Professional Development workshops and has received expansive training in toddler behavioral modification. 
She has been working at TKA as the Early Childhood Assistant Director since May 2014. She is extremely passionate about Early Childhood Education and strives to use her past academic training and teaching experience to assist in leading our Preschool staff, children and families.
Alison is married to Jon, a Real Estate Developer. They live in Arcadia with their labradoodle, Wrigley.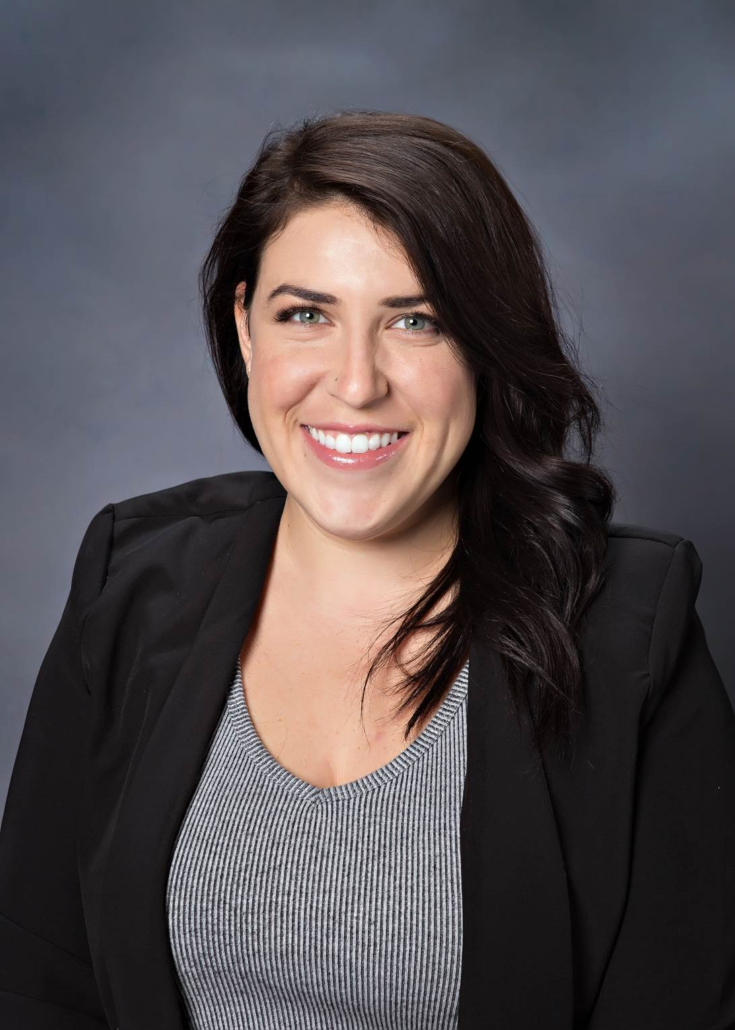 A true "Arizonan," Carly grew up in the Valley, attending religious school and youth group at an area Reform congregation. She received her undergraduate degree in Theatre for Youth and Communication at Arizona State and completed her Master's in Education through Northern Arizona University. In addition, Carly worked with the JCC Shemesh Day Camp for four years and spent six summers at Camp Charles Pearlstein (now Camp Stein) as a Counselor, Administrator, and Program Director and is an experienced Youth Group Advisor.  Carly is also fond of her professional experiences with the Walt Disney Company, where she held several diverse positions over five years, including her work with Radio Disney's youth education outreach program.
As the Director of Youth and Education and  KATY (youth group) Advisor, Carly enjoys creating experiential learning methods and programming to engage the youth of our community.  Carly is thrilled to be a part of such a warm, caring, and energetic community and looks forward to the amazing things this community will accomplish as she continues her work with the youth and family members of Kol Ami.
Emmy and Addy award-winning husband-and-wife team.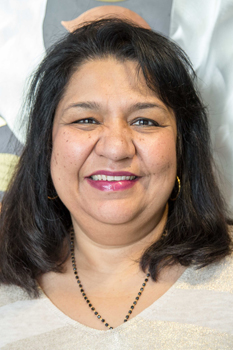 accounting@templekolami.org
Nancy's career in finance has included a strong background in non-profit accounting and human resources. She started her career in Atlanta, after graduating from Emory University. After moving to Scottsdale with her family ( her husband and two children)  in 2012, she became the staff accountant at Congregation Or-Tzion and then progressed to the Arizona Dental Association as their controller. Nancy loves working in a religious institution because of the people interaction!
tkaoffice@templekolami.org
Laurel is thrilled to be a member of the Temple Kol Ami family and direct her energy towards the Jewish community. She received her B.A. in political science from UC San Diego and completed her first year of the Masters of Social Work program at UW Madison. While in Madison, she worked at UW Hillel and was an avid volunteer in the local Jewish community. Laurel enjoys spending her free time with her family, Brandon & Naomi, hiking, traveling, and exploring new places! Stop by the Temple Kol Ami office to  say hello and introduce yourself!
Temple Kol Ami Staff Emeritus
Rabbi Herring was born in Western Pennsylvania, and attended Taylor Allderdice High school. As a teenager he was a president of his Temple youth group, becoming active in the National Federation of Temple Youth, where he met his wife to be, Barbara Levin. After graduation from the University of Pittsburgh, Rabbi Herring went on to Hebrew Union College in Cincinnati where, five years later, he was ordained to the rabbinate. In 1965 Rabbi and Barbara moved to Tachikawa Air Base in a suburb of Tokyo where, for the next three years he served as a chaplain in the U.S. Air Force, serving troops in central and northern Japan, Korea, Taiwan and in the support hospital for Viet Nam. Among his major accomplishments was learning how to make sushi, and climbing Mount Fuji. In 1968, the Herrings moved to Phoenix with their first daughter Laura, where Rabbi Herring took a position as Assistant Rabbi at Temple Beth Israel. He was assigned the primary task of Youth Activities, so, in that time, two more daughters were born to him and Barbara. During the next twenty years, he helped found and develop Camp Charles Pearlstein, serving as its director for fifteen years. He also served as Director of National Federation of Temple Youth Southwest (SWFTY) and SWFTY Summer Institute, Beth Israel youth group (BITY), and helped found the nationally awarded Mitzvah Corp, involving Reform Jewish teens throughout the Southwest, and its Camp SWIFT, serving thousands of inner-city children. Rabbi Herring also created Beth Israel's cutting edge contemporary worship services for Shabbat and the High Holy Days, remaining a leader in creative liturgical evolution.
In 1988, Rabbi Herring was invited to become the rabbi of the newly created Temple Kol Ami, and he accepted the position. The congregation quickly outgrew its rental home, and moved into its present facility in 1994. Rabbi Herring has written the prayer books used here for Sabbath and High Holy Days, as well as an astonishing religious school curriculum.  In 2003, the Central Conference of American Rabbis awarded Rabbi Herring the prestigious Samuel Cook Award for lifetime service in the field of youth. The Herring children and grandchildren (6!) remain active in Jewish affairs in their own communities.
Raina Sinclair was born in Chicago, Illinois, the second of four children. When her father, a military officer, was stationed in Paris (France, not Texas) she had the opportunity to study piano with celebrated virtuosa, Aline Van Berentzen. Raina continued as a student at the Royal Conservatory of Belgium in Mons and obtained a premier prix de voix. Upon returning to the United States, she continued music study at the Juilliard School of the Performing Arts in New York City, followed by both music and applied art at the American University in Washington D.C.
Raina enjoyed early opportunities to perform professionally in productions that celebrated the opening of the Kennedy Center for Performing Arts in Washington , D.C. in the casts of, the then, newly-mounted New York City Opera Company's production of Handel's Opera "Ariodante", and famed composer Leonard Bernstein's theater piece, " Mass", commissioned by Jacqueline Kennedy for the opening production. The following year, Raina was a cast member in the touring company that took "Mass" to Philadelphia, and to the Metropolitan Opera in Lincoln Center for the Performing Arts in New York City. She was one of the performers on the original cast recording.
Raina has been involved as a Jewish educator in the valley for over thirty years. In 1996, Rabbi Herring invited her to become the first cantorial soloist in the history of Temple Kol Ami–a position she held until retiring in 2015–where she worked with the students in the Early Childhood Center, providing music and Judaic programming for the children, teaching in the Religious School and with B'nei Mitzvah students, and officiating with the Rabbi at Shabbat.
Most treasured of all project opportunities have been the creation of two sets of Torah covers (for holiday festivals and for the rest of the year), the ark valances, the holiday Torah table cover, and the cover for the Torahs when they are out of the ark during a service.
Cantor Raina and her husband Bill have lived in Scottsdale since 1974 and have four adult children and seven grandchildren.